For many homeowners within Indiana, purchasing flood insurance is one of the last things on their mind. Floods are not nearly as prominent as other unforeseen events such as car accidents or health concerns. This tends to push many homeowners away from purchasing flood insurance due to the unlikelihood of it happening in the near future. As many homeowners adopt this mindset to escape higher cost, they are not considering the most important attribute - a one-time catastrophic flood to completely destroy their home.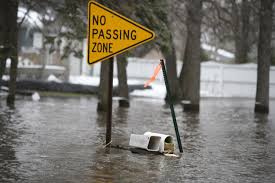 Indiana has declared 13 major disasters due to drastic flooding since 2002. A catastrophic flood can cost a homeowner hundreds of thousands of dollars in terms of repairs, which is why it is so important to purchase flood insurance and prepare for such an event. One of these catastrophic events pertains to the town of Aurora, Indiana, which experienced a flood early in 2018 that cost many residents their homes within the small town. This town experiences extensive flooding every 10-20 years, which is why it was crucial for the residents within the area to purchase flood insurance - even though it only happens every 10-20 years. Another example of this would be the flooding of the East and West Fork White Rivers, in which 82 of 92 Indiana counties were declared disasters area. While Indiana residents experience some sort of flooding problem every year, these rather significant flooding events are what cost the most money and can financially cripple an individual.
It is safe to say that flooding could become a major factor within your lifetime and may cost you thousands of dollars. If you believe that flooding may be an issue in your future, you may be wondering how much it may cost or what it covers.
Flood Insurance in Indiana - What it Covers
Flood Insurance may provide two different types of coverage - home structure and contents. You are able to opt out of purchasing both types of coverage and only purchase one or the other, but it is highly recommended that you decide to purchase both to avoid any expenses that will come out of your pocket.
Building coverage accounts for any of the following:
Building Damage

Built-In Appliances

Furnace Units

Electrical Systems

Plumbing Systems
Content Coverage accounts for the following:
Clothing Loss or Damage

Furniture

Electronics

Personal Items

Portable Appliances
Overall, purchasing flood insurance will cover any household damages along with any contents within the home, saving you from diving into your pocket for repair or replacement expenses.
Flood Insurance in Indiana - What's the Cost?
While the cost can vary based on the insurance policy, the monthly price usually is lower than payments on a loan and secures the homeowner through safeguarding their investments. The National Flood Insurance Program (NFIP) is aided through the Federal Government and has been crucial in providing low-interest loans as a temporary aid.
More facts pertaining to flood insurance in Indiana include the following:
Of 32,500 active flood insurance policies in Indiana, 22,000 are in high-risk areas

Fewer than 2% of Indiana households are covered by flood insurance

Nearly a third of flood claims are paid out to homeowners outside of a high-risk flood zone
Flood insurance definitely outweighs the cost of out-of-pocket expenses due to a flood, which is why you should be considering flood insurance for your home. For more information on finding the best flood insurance policy and locating the overall cost of flood insurance, submit a flood insurance quote request form here. If you wish to speak with a member of our team, contact us at 317-377-110.
Burns Family Insurance - Insurance in Indiana
Burns Family Insurance Agency is an Independent Insurance Agency that ensures for a dedicated team of experts that work together to address any of your insurance concerns. We offer all types of personal insurance coverage such as auto, homeowner, motorcycle, life, flood, boat & water, and other forms of insurance for individuals within Indiana and primarily the Indianapolis area. Burns Insurance guarantees to take care of any concerns, so give us a call at 317-377-1100 or submit a request form here.