Insurance Coverages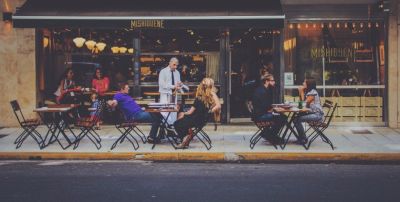 Coverage and benefits listed below may not be available in your state. If available, some optional coverage and benefits might be offered at an additional charge. Contact Indiana Food & Beverage Insurance today to learn more.
General Liability
– Insurance protecting commercial insureds from most liability exposures other than automobile and professional liability.
Commercial Property – If you own your building you will want to insure your property in order to rebuild or repair it. There are multiple ways to insure a building, the most common is Replacement Cost, but some owners only want to insure their building for Actual Cash Value (ACV). Some items like permanently built in walk-ins will be included in the building coverage and not your business personal property (this varies by carrier).
Business Personal Property – This is the property you own that never leaves the location: tables, chairs, POS system, and of course all of your knives and glasses.
Inland Marine Property - You may own a business where your operations are mobile, and if you do this property would need to be listed separately on an inland marine policy. An example would be a catering business and you have equipment that is not at your primary location this equipment would need to be listed as inland marine to be properly covered. Depending on the dollar amount it may need to be scheduled.
Water Backup – Covers damage to your property resulting from water that backs up through or overflows from a sewer, drain, septic system or sump pump.
Tenants Improvements & Betterments – Have you leased a property and made improvements to the building like building a bar that is permanently attached or cut open the concrete floor and installed thousands of dollars in plumbing. If you don't have this coverage you probably don't have any coverage for those improvements.
Auto Liability – If your business owns a vehicle and is used primarily for business operations you will want to make sure that your business has auto liability to cover bodily injury and property damage to other vehicles or property. We can also address other coverages like: Uninsured and Underinsured motorist, Comprehensive, Collision, and Rental Reimbursement.
Hired Auto Liability – This Liability would cover the named insured for autos that are: leased, hired, rented or borrowed.
Non-Owned Auto Liability – This specific coverage applies to the named insured's business but that is not owned, leased, hired, rented, or borrowed by the named insured. An example of this liability would be if you owned a business and you sent an employee on an errand in their personal vehicle or if you have a business that has delivery service, and employees are using their own vehicles.
Business Income – What if your business had a loss where you could not open tomorrow, how would your business replace that lost income? Business income coverage will address this concern and keep your business making money while repairs are being made and operations are restored.
Equipment Breakdown - This is coverage for loss due to mechanical or electrical breakdown of nearly any type of equipment. This coverage applies to the cost to repair or replace the equipment and any other property damaged by the equipment breakdown. Resulting business income and extra expense loss is often covered as well.
Spoilage and Food Contamination – If you have a power outage and your food for your business becomes spoiled or contaminated without this coverage you could be looking at thousands of dollars in out of pocket expense without this coverage.
Crime / Employee Dishonesty – If by chance your business is robbed, burglarized or you have an employee stealing money from you, this coverage would cover that exposure. This coverage typically has separate limits for money on and off premises.
Liquor Liability – If you serve liquor at your place of business this is one of your largest risks. If your business served a patron alcohol and they left your establishment and was in a car wreck and you were later brought into a law suit claiming you over-served that customer. Do you have enough coverage?
Employee Practice Liability – When you make the decision to start hiring employees you open yourself to legal complaints for wrongful termination such as: age, race, or gender complaints. This coverage also covers sexual harassment which is more common in the workplace now than ever. This coverage will protect you for frivolous claims and could save you tens of thousands of dollars.
Product Leakage – Provides coverage to covered property due to a leak of finished or in-process beverage from a tank, vessel, or barrel.
Tank Collapse – Provides coverage to covered property caused by collapse of a tank due to failure of a pressure relief device.
Raw Material Spoilage – As your business grows and you start to have more ingredients on hand now you must consider what happens if those ingredients spoil.
Tasting Room / Tap Room Coverage – This is where we come back to liquor liability. If you have a tasting/tap room you never know when someone might have one too many samples and leave your place of business and cause a serious accident. Your business can now be brought in and named in a law suit.
Transit / Cargo Coverage - This important coverage covers your product once it leaves your facility and is on its way to the final destination, whether that be a distributor, bar, liquor store or a brew festival.
Key-Employee Replacement Coverage – Provides hiring expenses you incur to replace your head brewer or brew master when unable to continue due to death or permanent disabilities.
Loss of Processing Water – Provides coverage for extra expenses you incur due to a loss or lack of water used to process beverages after a covered cause of loss.
Data Compromise
– Covers expenses to respond to a breach of personally identify information of customers, clients or employees or expenses for your individual response to an actual or threatened identity theft.
Assault and Battery - Assault is usually defined as "an act that threatens physical harm to a person." Battery is generally defined as "the crime of unconsented physical contact with another person." If you serve alcohol at your business this is a must have coverage.